Everything Everywhere All at Once Is Phenomenal
Everything Everywhere All at Once is a masterpiece. A culmination of increasingly popular science fiction topics, well-trodden philosophy, absurdist humor, and incredible fight choreography. It's everything that The Matrix Resurrections should've been and more.
Comparing it to the original Matrix isn't just obvious. It's deliberate by the creators. Though I can't confirm this was their intent, its outcome is using the standard three-act structure to ease viewers into an extremely thematically dense story. Both also pull off some of the most visually stunning action scenes I've seen in a long time. Turns out, you can reclaim the magic of the '90s. Top to bottom, this is the movie I've been waiting a long time to see.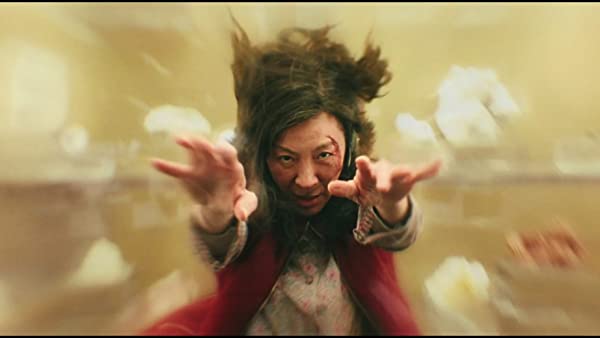 The Degree Of Sheer Skill Is A Breathe Of Fresh Air
Finding a place to start with my praise is difficult. It's a film full of excellent constituent parts that led to a greater, wonderful whole. But perhaps what impressed me the most was writing-based. It was how they handled the main character. The classic writing advice is to give your MC flaws. To not make them too powerful or competent. To give them purely negative traits they can overcome. And, in Everything Everywhere All at Once, they commit to this principle. Evelyn Wang (played by Michelle Yeoh) has flaws for days, and they're deep ones. This character's dismissive and unkind to her husband. She's barely hiding her homophobia and has a strained relationship with her LGBTQ+ daughter. Her connection to her father is strained differently—but informs a lot of her character. In short, she feels like a real person you could feasibly meet, with a life history, issues, trauma, and blatant negative qualities. And thus, it's a goddamn masterstroke they pay off and resolve these flaws in only around two hours and do so with multiple emotional crescendos.
This Film Is Full of Nonstop Great Character Acting
But the writing isn't all of why this works. Michelle's performance deserves multiple awards, and she's one of the best actors working today. And she's not even close to the only immaculate performance in this film.
Ke Huy Quan's ability to play multiple disparate characters, each engaging, some heartbreaking, is on par with Moon Knight's Oscar Isaac. He's the heart of this movie, and I cannot imagine someone playing it better.
Key Huy Quan Gives An Unbelievable Performance
Stephanie Hsu is an incredible physical actor. To explain is to invite spoilers, but she communicates more with a head tilt and how she walks into a room than some entire performances. One of the ending scenes, the moment by the car, was so well-done that I forgot I was watching a performance. I just saw someone having an emotional fight with their mother. I just saw real life rendered on a screen.
And I can keep going. James Hong also plays multiple characters, and his flip between an older man needing care from his daughter and a major player in the plot is so seamless it feels like two actors. Jamie Lee Curtis is fantastic, as always. She does so much with this character and even lends heart to the hot dog finger scenes. Harry Shum Jr. does similarly, taking a joke character and making him sympathetic.
There's not a poor performance in the bunch. There's not a medium performance in the bunch. It's gold throughout. The earnestness that this film and its actors handle silliness and tragedy alike is refreshingly devoid of sarcasm and actively rejects cynicism.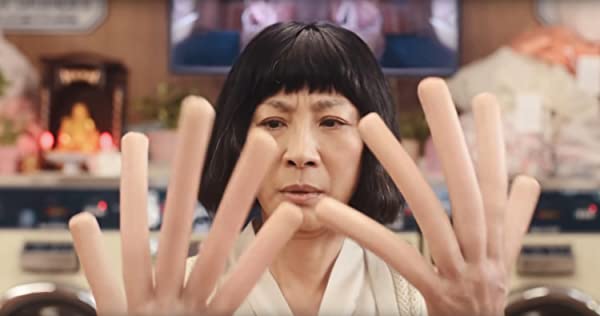 Everything Everywhere All at Once Is Just Earnest
And since I've mentioned the comedy parts: yeah, this movie is the wildest thing I've ever seen. Centaurworld comes close but doesn't also make its comedy cosmically, existentially, and emotionally unmooring. It also doesn't hang major plot beats on a pun. Describing certain scenes will make you sound like you're chaining verbs and nouns randomly. All that pathos, emotional acting, and human honesty bolsters and is bolstered by Deadpool-levels of randomity and chaos. Almost nothing is off the table in this movie. Vulgar sex jokes or deeply personal moments easily pair with apocalyptic wastelands, Disney parodies, and fourth wall breaks. You may flinch, cackle with laughter, or just yell "what" at the screen. It's simultaneously everything from The Mask, the "weirdness bubbles" from Gravity Falls, several emotional beats from Turning Red, some of the best aspects of The Matrix, the energy of that one scene in Shang-Chi on the bus, and—for obvious reasons—the visual splendor of Multiverse of Madness.
Everything Everywhere All at Once Has Everything
And the most impressive thing, perhaps by far, is that it can take this stuff, all this chaos, noise, big concepts, and crude humor, and make it make sense. Tie it to something pulled straight from the heart. This is narrative, thematic, and emotional cohesion and it's what only the best stories fully master. Everything Everywhere All at Once has a message—an important, beautiful message I won't dare spoil for you—but that hit me, personally, with a lot of emotion. I read and review a lot of cosmic horror on this site and watch a lot of existentially upsetting media, but to see similar themes approached and thought of and shown the way it is here is something worth experiencing. It was practically healing. So rarely does fiction evoke laughter, crying, and introspection from me anymore, but this movie did it repeatedly.
Everything Everywhere All at Once is a weird film. The tone's all over the place. The title was not messing around. But it turns out when you put love and loss and humor and hope and nihilism and depression and absurdity and empathy into a story, and you let talented people present it all, you find something nigh-transcendent. You find art as it is meant to be.
I love this movie. Please watch it.  
Possibly Related Posts: