Dead End: Paranormal Park Tackles A Lot Of Stuff
Dead End: Paranormal Park is a lovely show. I enjoyed the heck out of it. It's also a show that I'm not equipped to talk about many of its themes, topics, and representations. Within the three episodes I've seen, it addresses transphobia and mental illness, and probably more I didn't catch. It has a diverse cast encompassing many cultures and ways of being I'm not a part of, and thus don't have the right to speak for its presentation here. It's also a show based on a graphic novel series I haven't read. I actively encourage you to seek out other articles about Dead End: Paranormal Park for a fuller and more encompassing perspective.
So, with that clarified, this review will basically be me talking about everything else. Everything I'm equipped to tackle as a reviewer. This comes down to general character work, comedy, and horror.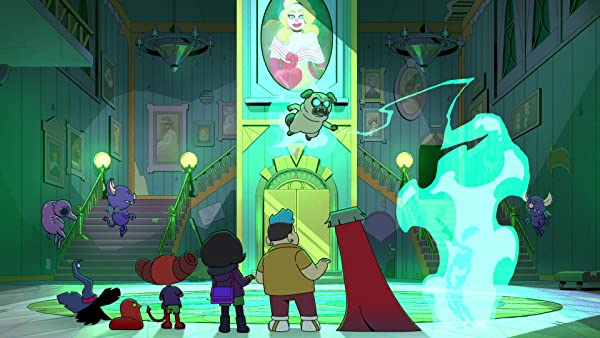 The Show Has A Huge Cast Of Likeable Characters
And since this series is heavily character-focused, that seems the natural place to begin. We have a core four cast with a lot of side characters. They're all fantastic and varied, and the main four feel like a family within three episodes. Norma and Barney's budding friendship is adorable, and every instance of their mutual support made me smile. Courtney, the teleporting mischievous demon, adds a level of deadpan humor and somehow even more heart. And then we have Pugsley, the cutest talking animal character I've ever seen. His interactions with Barney are the highlight of the show. It's the classic boy and his dog archetype, and the level of love Barney has for Pugsley is heartwarming. The animators didn't have to go this hard on making this animated dog as cute as he is.
As I said earlier, the extended cast is also excellent. Norma and Badyah have a fun dynamic, with one being quite confident and the other anxious. Barney's crush on Logan is cute and I hope to see how the ship progresses. But even with them as they are at the offset, sans these obvious setups for later plot development, it's an excellent arrangement for an ensemble cast. You can have any two established characters interact, and it'll likely be a lot of fun.
Dead End Has Effective Dialogue And Interactions
This brings us to the comedy—which is nothing special but still charming. Jokes I've seen other places somehow made me chuckle, and the show will randomly pull off a delightful pun. But the best jokes are much broader. They're what I'd call "ambient comedy"—comedy that isn't one joke but a whole situation. And it often manifests when the horror elements meet the absurd. Episode two has an extended zombie scene that kept getting funnier.
But it's not always so muted or blended with silliness. Dead End: Paranormal Park has a surprising number of creepy moments. It's unlikely to make a horror fan jump, but there's real tension. Episode two pulls off several visual tricks that expertly hide the monster. A hand reaching out from the dark was a genuinely disturbing moment. And episode three deals with a lot of stuff I'm not equipped to talk about in the slightest, but it went all out with the horror visuals. The animation in this series isn't always top-tier, but they go as far as they can when they want to do something horrific.
Dead End Has Surprisingly Creepy Villian Designs
As I said at the top, I like this show quite a bit. Dead End: Paranormal Park is my favorite kind of animated series. The plots are monster-of-the-week but also contain a continuous narrative. The characters' arcs advance, as well as the paranormal plot, and the pacing feels effortless. I even know from spoilers that it'll eventually have big, bombastic musical numbers—which is a secret to getting me to like a show. If the graphic novels are anything like this, I understand why it got multiple installments. It's everything I wanted from The Hollow and shares many similarities with what I love about The Owl House. If you're a fan of spooky media, check out Dead End: Paranormal Park.
Possibly Related Posts: