Artifact Storm Lets You Win In One Powerful Blast
You may have heard of CEDH before. It's a way of playing Commander where you focus on ruthlessly winning the game as fast as possible. But, for those who play Arena, only one option comes close to either version of Commander: Brawl. This makes Brawl a weird format because people will run a mix of Commander strategies and brutal 1v1 techniques, often in the same decks. And, while a long time ago I wrote an article about a slightly more casual-oriented Brawl deck (that admittedly does now contain multiple banned cards), this time, I'm bringing you an oppressively powerful build that's won me a lot of Brawl games in the last few days. I call it Artifact Storm.
And, yes, for those who shuddered, Artifact Storm is the deck you think it is. We're running Jhoira, Weatherlight Captain, for maximum value. There aren't as many support cards in Arena as in Commander, but the core strategy remains the same.
For those who don't know it, here's the win-con: use a combination of cost-reduction spells and very cheap artifacts (preferably ones that draw cards on entry or tap for mana) to accrue a silly amount of cards off Jhoira's ability. Then, at some point, you get an Aetherflux Reservoir into play, gain a ton of life, and blast them down for fifty damage. Or, in a pinch, you cast Grapeshot for lethal.
To this end, Artifact Storm's construction is primarily synergistic; every other card in the deck is there to make the strategy more consistent or buy you time. We'll go into a few high-level moves you can pull once you've played it a few times—but let's start with some of the other key card choices that make this deck so ruthless.
Fountain of Renewal / Ivory Tower:
This deck is life hungry. You seldom block attacks and take all the damage you can on the chin. These two cards help slow down aggressive opponents and give you room to maneuver.
Hope of Ghirapur / Defense Grid: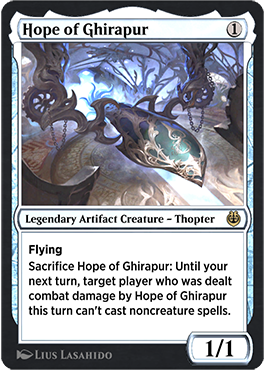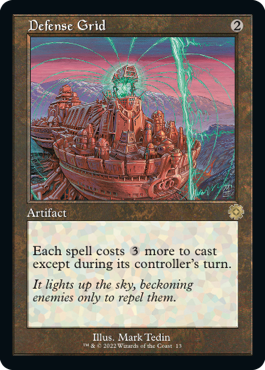 The deck's combo is remarkably resilient without help, but if you find yourself fighting countermagic, you can use these to leave yourself an opening.
Swiftfoot Boots:
Hard removal can really muck up our plans. Swiftfoot Boots is a great way to protect Jhoira while not shaving too much on artifacts.
The Reality Chip / Mazemind Tome / Mystic Forge:
Artifact Storm has to play off the top of the deck a lot. It's not uncommon to have a hand of seven lands and rely on card draw. Thus, these cards are pivotal combo extenders. Never give up unless you've exhausted these options. With Chip and Forge, we can even push past Narset sometimes.
Emry, Lurker of the Loch / Birgi, God of Storytelling:
These two are amazing if you can keep them alive. Not only do they get you a draw off Jhoira, but they also have so much utility in extending or setting up combos. Emry is one of the few ways to recover useful pieces that get destroyed and can help power combos even if Jhoira dies. Birgi, her, and Paradox Engine can draw your entire deck in one turn by looping Aether Spellbomb or Chromatic Sphere. Even without Emry, though, Birgi's horn shouldn't be ignored. It turns dead draws into more chances to hit zero-cost artifacts.
Paradoxical Outcome: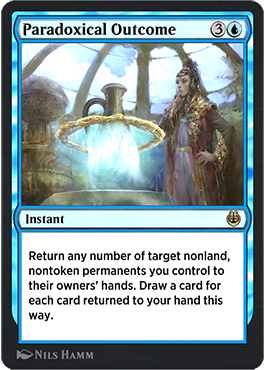 Don't cast this card unless you are about to die or can win the game. Ideally, it's played with lots of cost-reducing cards. You return functionally (or organically) zero-cost cards to hand and ideally get even more. Then you replay them all with Jhoira, draw into a win-con, and end the game. You can also start this plan on your opponent's end step.
 Inspiring Statuary:
This is in Artifact Storm for one reason: to recast Jhoira if she dies. Commander Tax isn't so bad when you can tap all the random artifacts you're not using. You can play it for other random tricks, like making Birgi's horn cheaper, but it's mostly insurance against removal.
Forsaken Monument / Paradox Engine:
These two cards often turn the tide. Forsaken Monument gives you so much mana and life that I've recovered from single-digit life totals. And, surprise, the banned-in-Commander Paradox Engine combines with mana rocks and cost-reducers to ensure you never run out of steam. If you have ample time left on the chess clock, tap all your mana rocks for extra floating mana before you cast anything else.
Whir of Invention:
You usually use this to find Aetherflux for the big finish, but it can also find Paradox Engine, Jhoira's Familiar, Mystic Forge, Forsaken Monument, or almost anything else. Keep in mind how much mana you have though, as Engine or Reservoir can't save you if you burned everything to play them.
---
And those are the key cards that make this deck a well-oiled machine. There's so much to think about every game, and you can turn around battles that seemed impossible to win. Ultimately, Artifact Storm rewards creative thinking, multi-layered planning, and examining the options you have each turn. But, before I give you the list, here are four more pieces of general advice:
Don't cast your Commander or play all your cheap artifacts immediately, even if you have open mana. Wait until turn five or six and then play Jhoira with the artifacts so you can draw a card or two even if she dies immediately. The best early turns are usually setting up mana rocks and preparing defenses for when you start the combo.
However, it's not a bad idea to play something like Chromatic Star turn one and then crack it turn two if you're low on lands. That extra card draw will help ensure everything works. If you have Emry to recur them, all the better.
Some of your cards have affinity, and Paradoxical Outcome needs fodder, so make sure you're not burning consumable artifact resources too fast as you go through combo turns.
You can use Saheeli, Sublime Artificer, to copy artifacts on the board to double their effects. This is devastating with things like Aetherflux or Jhoira's Familiar, but it doesn't work for everything. Copying Cloud Key won't reduce mana costs, and please remember that some of your artifacts are legendary.
And now, without further ado, here's the full, importable list!
Commander
1 Jhoira, Weatherlight Captain (DAR) 197
Deck
1 Saheeli, Sublime Artificer (WAR) 234
1 Whir of Invention (KLR) 73
1 Jhoira's Familiar (DAR) 220
1 Cloud Key (BRR) 12
1 Paradoxical Outcome (KLR) 61
1 Grapeshot (STA) 39
1 Paradox Engine (KLR) 259
1 Emry, Lurker of the Loch (ELD) 43
1 Underworld Breach (THB) 161
1 Saheeli, Filigree Master (BRO) 219
1 Enthusiastic Mechanaut (NEO) 218
1 Foundry Inspector (BRR) 16
1 Myr Enforcer (J21) 119
1 Thought Monitor (MH2) 71
1 Reverse Engineer (AER) 42
1 Mystic Forge (M20) 233
1 Birgi, God of Storytelling (KHM) 123
1 Brainstorm (STA) 13
1 Aetherflux Reservoir (BRR) 2
1 Sculpting Steel (KLR) 302
1 Stonecoil Serpent (ELD) 235
1 Solemn Simulacrum (M21) 239
1 Forsaken Monument (ZNR) 244
1 Reckoner Bankbuster (NEO) 255
1 Ratchet Bomb (SOM) 196
1 Mox Amber (BRR) 35
1 Defense Grid (BRR) 13
1 Mazemind Tome (M21) 232
1 Hope of Ghirapur (KLR) 243
1 Midnight Clock (ELD) 54
1 Merchant's Dockhand (KLR) 250
1 The Reality Chip (NEO) 74
1 Chromatic Sphere (JMP) 462
1 Chromatic Star (BRR) 11
1 Fountain of Renewal (M19) 235
1 Elsewhere Flask (BRR) 15
1 A-Spell Satchel (STX) 258
1 Relic of Progenitus (ALA) 218
1 Soul-Guide Lantern (BRR) 54
1 Energy Refractor (BRO) 234
1 Ichor Wellspring (BRR) 21
1 Golden Egg (ELD) 220
1 Mind Stone (WTH) 153
1 Spare Supplies (ZNR) 254
1 Prophetic Prism (KLR) 264
1 Guild Globe (WAR) 239
1 Ivory Tower (BRR) 23
1 Navigator's Compass (DAR) 225
1 Mishra's Bauble (BRR) 34
1 Bone Saw (BRR) 7
1 Ornithopter (BRR) 37
1 Tormod's Crypt (M21) 241
1 Spirebluff Canal (KLR) 286
1 Steam Vents (GRN) 257
1 Shivan Reef (DMU) 255
1 Riverglide Pathway (ZNR) 264
1 Stormcarved Coast (VOW) 265
1 Sulfur Falls (DAR) 247
1 Command Tower (ELD) 333
1 Blast Zone (BRO) 258
1 Buried Ruin (JMP) 491
1 Darksteel Citadel (M15) 242
1 Reliquary Tower (M19) 254
1 Tocasia's Dig Site (BRO) 266
1 Zhalfirin Void (DAR) 249
13 Island (BRO) 271
8 Mountain (BRO) 275
1 Corridor Monitor (ELD) 41
1 Arcane Signet (ELD) 331
1 Coldsteel Heart (CSP) 136
1 Terrarion (JMP) 488
1 Springleaf Drum (BRR) 55
1 Traveler's Amulet (THB) 240
1 Guardian Idol (JMP) 467
1 Swiftfoot Boots (BRR) 58
1 Ornithopter of Paradise (MH2) 232
1 Mana Geode (WAR) 241
1 Aether Spellbomb (JMP) 456
1 Goldhound (SNC) 108
1 Inspiring Statuary (BRR) 22
---
And with that, I wish you good luck, good combo-ing, and that the top of your deck is always a zero-cost artifact. I had a lot of fun being a menace on Arena with Artifact Storm, and I hope you do, too.  
Possibly Related Posts: