March of the Machines Is The Best Set This Decade
March of the Machines is now on Arena. And, if you've been around here for a little while, you know what that means: first impressions! Every set, I like to try out cards and strategies I think will be important, relevant, or just goofy in Constructed formats. And after lots of testing, I've got five impressions for March of the Machines.
Impression #1: Historic Brawl Is Wicked Fun
WOTC is clearly favoring Commander with recent sets, especially March of the Machines, and these cards will also affect Brawl. The new "team up" creatures and the new transforming Praetors are all great Commander options for the ninety-nine or the leader. Urabrask goes in some Storm builds. Sheoldred is fun as a repeatable Eerie Ultimatum. Drana and Linvala might become a CEDH staple it's so useful in singleton formats. Omnath, Locus of All is begging someone to figure out a busted combo. And that's somehow not all. We also got the Multiverse Legends cards, which include the original version of Atraxa! There's just so much to try in Brawl right now! So, go experiment! Though, you might need to build with one strategy in mind…
Impression #2: Proliferate Is So Powerful
Poison is such a pernicious mechanic that I question its existence, but I don't dislike it. Alternative win-cons ensure lifegain can't shut out players. And it's incredibly satisfying to win with one in any format. But I don't think anyone will argue with me that proliferate sometimes makes it a little too easy. That's not all it helps with, either. Between oil counter abilities, lots of +1/+1 counter interactions, and instant-win Planeswalker ultimates, proliferating can be one of the strongest things you do in a game. That's all somewhat established, though. What isn't (probably) common knowledge yet is it's a way to slow down people activating March of the Machine's new card type…
Impression #3: "Battles" Change Games
Battles wouldn't be useable if they didn't do something when they entered play. Just straight out too weak. A waste of mana. But since they have both enters play abilities and often good payoffs for popping them, I keep putting them into decks. To my mind, there are seven good ones in this set. Invasion of Gobakhan is good for the same reason Elite Spellbinder is good. Invasion of Karsus and Regatha are good for the usual burn spell reasons, and their flip sides work well in the same strategies. Invasion of Ixalan, Ikoria, and Zendikar elevate the usual stompy plans and feel almost too easy to pop when a deck is built for them. And, finally, I hope Invasion of New Phyrexia is a herald of some Azorius Knights deck, just because I think that would be fun. The thing about Battles that's especially interesting, though, is how they change combat when they appear. Popping a Battle is somewhat difficult—burn spells rarely work on them. Destroying them without combat outright doesn't trigger the flip. At first blush, it seems like the same conundrum with Planeswalkers. Attack to lower the opponent's life or stop the Planeswalker from causing more issues? But Battles—at least for now—are inert. They don't do anything after resolution. So, they should only be targeted to up tempo, or if you need whatever you get from flipping them. We have only seen Sieges, though, so this might change later. It's certainly a good first step for a new card type. I only wish the other new mechanic was a little better…
Impression #4: Incubate Isn't Good
I'm sure I'll be proven wrong somehow, sometime, by some weird usage. They're artifacts, and even bad artifacts get fringe and busted possibilities. But they seem like a mild tempo trick at best. Meant for March of the Machines Limited and nothing else. This isn't necessarily unexpected or a bad thing, though. Limited needs to feel distinct, and for Constructed players like me, most Magic sets have only a few cards worth considering, anyway. Though, March of the Machines somewhat broke that trend…
Impression #5: This Set Has Tons of Good Cards
This dovetails from my first point. March of the Machines has a tremendous number of impactful cards. We've got Faerie Mastermind; it could make it to Legacy or Commander off its main ability. Dusk Legion Duelist is another great aggro option for mono-white (and is a nightmare when paired with Luminarch Aspirant). Archpriest of Shadows can basically end the game if you "backup" a flier at the right time. Rampaging Raptor has an even better version of Questing Beast's weird Planeswalker ability—and that should never be underestimated. Wrenn and Realmbreaker is so powerful and low-costed, I'm honestly worried about it. And that was me picking one mono-colored card from each color! Even among the artifacts, there's a new sword—finally completing the set!
---
I feel like I say this about most sets, but March of the Machines is a knockout. The power level is high, the new card type adds a lot of variety, and it's full of fun lore for longtime fans. Borborygmos and Fblthp are on the same card! This set will kick-start new strategies and has plenty of support for existing ones like Golgari/Sultai Midrange, Mono-Red Aggro, and Izzet Tempo. Basically, and simply, March of the Machines is a triumph of a set, and I can't wait to play with it more.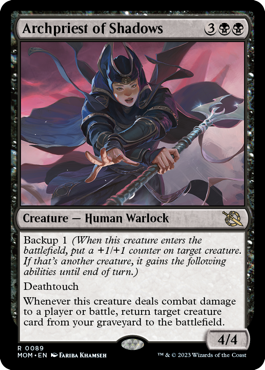 Possibly Related Posts: