I have a feeling that the political commentary in this movie might be even more heavy-handed or clunky (or even problematic) than I recall, but the initial premise, the death game itself, was so intriguing that I still have it in my head. And that quality often determines what articles come back out of the archives. This could've been a book—a long book, even—and that would've probably fixed most of its issues. It would've given more time to explore these people and not reduce them to cliches and stereotypes. Oh well. The movie still has promising aspects. I'd be interested in seeing more horror movies by these directors/scriptwriters.
Originally Published: November 10th, 2021
---
Circle Uses An Extremely Simple But Clever Plot
To call Circle an intense film is to undersell it. Utilizing almost only a single location, this death game story touches upon politics, human nature, mercy, and bigotry. It uses a very simple premise and plays it straight and is one of the best-paced films I've seen in a long time.
And before I go into some of its successes and failures, a brief explanation of the plot is necessary. In a dark room, fifty people, distributed across a ton of minorities, cultures, ages, and religious beliefs, all stand in a circle. Every two minutes, someone is murdered. Attempts to leave or tamper with the game automatically kills the cheater and resets the count. They can vote who's next, or it kills randomly.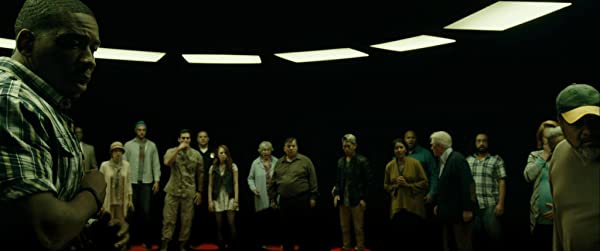 The Movie Rapidly Explores Its Dark Implications
And thus, everything you'd think might happen plays out rapidly. But just because the plot touches on a lot of loaded topics, doesn't mean it takes a very nuanced stance on a lot of them. Circle has two main things I'll criticize, and the first is that it tries to tackle multiple deep cultural and political ideas in a few sentences for each one. By necessity, the story brings up a talking point and then has the people relevant to the discussion die—usually within a few minutes. It's essentially soundbites and stereotypes with a few more biting or thought-out stances. A lot of characters—again, by necessity—are wearing outfits that make it very clear what type of person they represent. 
There's a reason Squid Game got super popular, and this didn't. Squid Game focuses. It's about debt and knows it. Circle has enough ideas explorable within it for like ten movies.
However, if you want a central commentary, there's one to be found—and it's given a lot of space because of how baked into everything it is. Circle does tacitly and indirectly speak a lot about how groups respond to danger. The human need to survive and different people's reactions to imminent death allow for a few stellar interactions.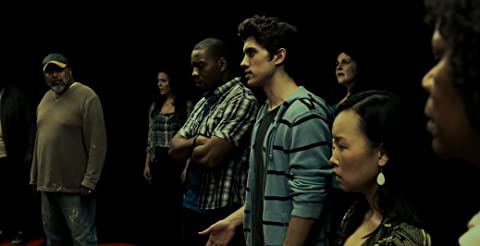 Circle Has Several Incredible Dialogue Moments
This does bring me to the other big issue with Circle, though. The acting. There are a few good actors here. Almost the whole movie is dialog, so that's kind of important. But this is a low-budget film, and you'll not get lucky with fifty actors all at once. Some are hammy, some underacting, some just not getting across the level of fear or worry that would make sense. It's not enough to take you out of it, but sometimes people are just being a stereotype.
Thankfully, regardless of the players, the death game itself is interesting. Actual strategies play out and following it's entertaining all by itself. If anything I've covered so far turned you off seeing Circle, consider still watching it for the late-game plays. Where the writer fails at depth, they don't in getting across twists and keeping track of the rules. There's something morbidly delightful in watching a few players game the system and seeing how such a simple ruleset can be twisted to eliminate or save people.
As you can probably tell from my flip-flopping, Circle is a mixed bag of a film. What the cast and crew accomplish with a black room, some basic CGI, and a few painted marks on the ground easily beat entire shows for tense, engaging drama. But it's also too short to do more than pay lip service to complicated social issues and might frustrate those wanting a headier movie or a more nuanced take. It's fun if you accept it as it is, but I don't blame you if it's not to your taste. Circle is the kind of film that if it doesn't already have one, it should get a cult following, but it's not likely to get anywhere past that.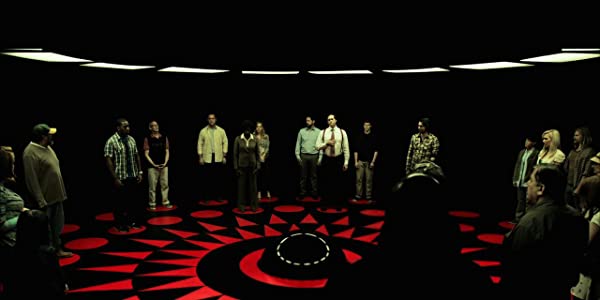 Possibly Related Posts: