An alien civilization that wants to buy the moon.
The Grim Reaper trying desperately to reverse a spell that left him stuck in a middle-aged IRS agent's body.
Writing advice from some of history's best science fiction authors.
---
What do these things have in common? You will find all of them, and so much more, in Writers of the Future Volume 39.
Writers of the Future is a yearly anthology featuring the latest in great speculative fiction.
Each year, the twelve quarterly winners of the Writers of the Future Contest are published alongside original illustrations from the Illustrators of the Future Contest winners. These are the stories that Brandon Sanderson, Nnedi Okorafor, Orson Scott Card,  Robert J. Sawyer, Kevin J. Anderson, Jody Lynn Nye, and others selected as the year's very best.
In this year's edition, you'll find contributions from twenty-four new award-winning authors and illustrators, three bonus stories from Kevin J. Anderson, L. Ron Hubbard, and S.M. Stirling, and expert advice on writing and illustration.
For nearly four decades, the L. Ron Hubbard Writers of the Future Contest has had a profound influence on the field of speculative fiction. The contest gives new science fiction and fantasy writers an opportunity to have their work judged by some of the world's best, most popular writers. 
There is no submission fee. (Yes, you read that right. No submission fee.) There are quarterly cash prizes of $1,000, $750, and $500 for the top three stories. The yearly grand prize winner receives a $5,000 cash prize and the L. Ron Hubbard Golden Pen Award. 
Each year culminates in an awards ceremony for the Writer and Illustrator winners—a black-tie event complete with trophies, a reception, and a book signing. 
As amazing as the contest is, Writers of the Future and Illustrators of the Future offers so much more. Contest winners attend an exclusive workshop before the annual event where they can learn from successful writers, authors, and other professionals, gaining valuable insights and making connections and lifelong friends with fellow writers and artists. 
Aspiring writers have access to a free online workshop with 13 videos from Writers of the Future judges David Farland, Tim Powers, and Orson Scott Card. There is also a blog, forum for writers and illustrators, and a podcast featuring life stories and proven tips from contest judges, past winners, and other industry professionals.
The stories in Writers of the Future Volume 39 are compelling and imaginative—just what you'd expect from the winners of such a prestigious and competitive contest. (My personal favorite is "Death and the Taxman" by David Hankins, a fun story about what happens when a dying IRS agent pulls a fast one on the Grim Reaper.) The stories are varied, with everything from vampires and shape-shifting Chihuahuas to space pirates and AIs demanding acknowledgment and recognition.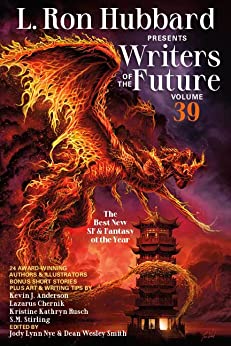 What is consistent is their quality. They all demonstrate well-conceived worlds, thoughtful storylines, and characters you care about. 
The advice in the anthology is valuable for all writers. In "Circulate," L. Ron Hubbard highlights the importance of paying close attention to the people around us, in our own location, which if we look closely enough is a treasure trove of inspiration and adventure. Subsequently, it works as an effective cure for "writer's block." Here is an excerpt: 
"It is not that our present locale is the best, but that it will have to do—emphatically. And the only real solution lies in circulating. In moving around and talking. In studying our neighbors and associates as closely as if we were about to transfer their likeness to canvas.
If we don't know the average man, we can't write about him or for him." 
We see an example of L. Ron Hubbard following his own advice in his story "The Unwilling Hero," which sends a newspaper reporter on an interstellar adventure. The author's understanding of what motivates a news writer, and the mundane obstacles he faces, bring rich life and detail to a story set far in the future. It gives speculative fiction a deep human quality.
Writers of the Future brings you the very best in new science fiction and fantasy. If you love great speculative fiction, pick up a copy of Writers of the Future Volume 39 and discover the writer who might just become your new favorite. 
And if you're a writer, take advantage of the many free resources offered by Writers of the Future. 
Read the stories to see what a winning submission looks like—and honestly, read them for your own enjoyment, to remind yourself through great stories everything you love about science fiction and fantasy. 
What are you waiting for? 
---
Brian Sigmon is a book editor and science fiction writer in Nashville Tennessee. He is a space adventure daydreamer who decided to start writing his stories down. He loves to read and write fast-paced, entertaining sci-fi that grips you from the first page and doesn't let up. Brian has a Ph.D. in religion and serves on the advisory board of AI Theology, a group dedicated to exploring the intersection of science, technology, and spirituality. He used to write articles on religion until he admitted to himself that fiction is just way more fun. Brian is also a woodworker, sports fan, armchair futurist, and half-decent kids soccer coach. He grew up in North Carolina and spent some wonderful years in Wisconsin before moving to Nashville. www.briansigmon.com.
Possibly Related Posts: