The LOTR Crossover Set Has Such Powerful Cards
Hello, all my fellow nerds! For some people, two of their favorite fantasy properties just met. And, even for people like me who don't understand all the LOTR references sprinkled throughout, this new set is still a ton of fun. Because these cards are so strong. Without Standard to worry about, the designers went wild with the power level. Historic, Commander, and Modern are already changing as people brew and find busted LOTR interactions.
But, for this article, I'm bringing things to Historic Brawl. A format for people without the time or a readily available pod to play Commander games regularly, but also for people who don't want the more narrow and focused play patterns of formats like Explorer. It's swiftly become one of my favorite formats for those exact reasons.
So, with all that in mind, and in what's going to be a massive, multi-part article series, we'll be looking at every single LOTR card I think will be good in Historic Brawl—in alphabetical order. Some cards are specifically here for certain strategies (like Treefolk or Horse-based decks); others are so good that they'll become staples across many decks.
This one is obvious why it's such a good card. I'm sure that each ability listed could be especially good in specific deck strategies, and him being creature-type Human only adds to the power level, but you can also just play any deck that wants to cast a lot of spells—be it creature spells or otherwise.
I'll be using this card as an excuse to talk about "the Ring tempts you" as a mechanic. This card is good because it's a one-mana way to use the Ring; that's all there is to it—though I suppose it's good in general spellslinger strategies in the same way Opt is. Ring triggers are powerful because many cards in LOTR care about them and have great payoffs. But even if you don't have other payoffs, getting two or three Ring triggers in the same turn can massively swing tempo. The combination of Lightning Bolt damage and forcing sacrifices can unravel a board stall. The card draw is good filtering and setup for repeatable draw triggers and reanimation shenanigans. And hitting with a smaller creature every turn can eventually win a game.
This card is part of some combo I haven't seen yet. Teferi, Time Raveler, proved long ago how strong an effect like this can be. You can flash in things like Wrath of God or "take another turn effects." It also incidentally drawing a card pushes it into a solid option for most spellslinger decks.
I'll admit, I'm a fan of "fun police" cards in Brawl. I once built a deck revolving around Gideon as a lock piece and won almost every game by my opponent conceding. And this card is absolutely meant to block "unfair" combos. It'll also randomly stop other cards that the opponent might not even consider beforehand. It hoses affinity, zero-mana artifacts, and can make cost reduction backfire. Boromir also having vigilance, decent enough stats, and that whole other second ability (which is fantastic) makes me believe this should be a Brawl staple right quick.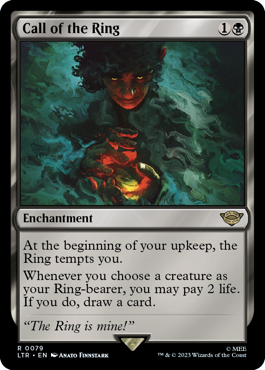 If you play this on turn two, you'll complete the Ring by turn six and have the chance to draw four extra cards. These even work in multiples if you clone it. And then, even after all that value, you'll have a reliable way to trigger Ring abilities for the rest of the game (and keep it on a creature if Ring-bearers keep dying). This is easily in the top ten best LOTR cards for Historic Brawl.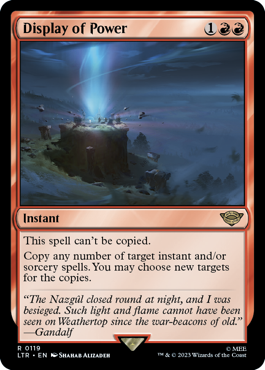 I feel like that first line of text is there because it would cause some infinite loop or rules issues. Regardless, this is a fun card, especially if you can pair it with some magecraft triggers. Or, if you want to cause chaos, this doesn't specify that the instants/sorceries have to be only (or even at all) yours.
Elf players, token players, and more: rejoice. You have another way to flood boards. Play this on turn four, with a few creatures already out, and then get one or two more creatures that turn. The power level on this card isn't broken or anything, but it's a lot of fun and is going in almost every mono-green deck I make.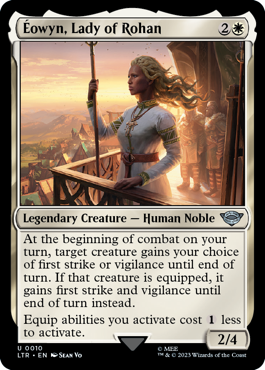 Personally, this card isn't exciting, but I can't argue with how good it would be in some equipment deck. If you like Syr Gwyn, then you'll like this card. Give something vigilance so you don't lower your defenses; give something first strike to deal with deathtouch or otherwise troublesome creatures. You'll turn the tide of many battles.
I love a good spellslinger deck, and this LOTR card helps shore up a common problem with many of them: having to use up damage spells on creatures instead of players. This card handles that issue, ensuring spells are effective no matter where you point the burn. Also, in a pinch, that second ability can save you from a big haymaker.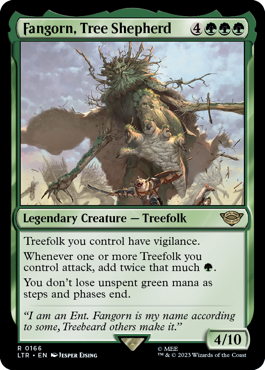 I'm not a big Treefolk player, but if you are, dear reader, then this is the commander for you. Fangorn's difficult to kill with damage, and even one turn with this card can result in massive amounts of mana and board presence. Playing one or two big creatures every turn wins Brawl games, sure as a tree is old.
---
And that's only the beginning of this LOTR list. Mixed in with a few other non-Magic articles and reviews, we'll be looking at over fifty cards in the next few weeks. Each card good enough to go in a Brawl deck. Each one opening new avenues of creative strategies and deck building ideas. And I'm excited to share my thoughts on all of them with you.
Possibly Related Posts: