The Power Level Of The LOTR Set Keeps Going Up
Welcome back! We took a brief break for a topical movie review, but we still have tons of LOTR cards to explore. This multi-part article series has two more entries after this one, and we've not even gotten to some of the most powerful cards the set offers.
So, let's not dawdle.  
For only two mana, why not have consistent creature card draw? If you play Elves, Goblins, Knights, or any other Historic Brawl deck that wants to attack with tons of little creatures, this horn is all upsides. Five is probably deep enough (I haven't done the math) into the deck to semi-reliably get a hit in a dedicated aggro build.
I'm not a fan of the "legendary" limitation here, but otherwise, this is such a "gotcha" card in some games. I've noticed a few gotcha cards in LOTR, but this is the meanest. Killing a creature is common enough, but turning someone's plans into sludge is another matter. It's not unheard of for someone to draw over ten cards during certain turns, and you might force a concession if you blast someone at the right time.
I may be overvaluing this card, but I think it's great. Phasing out is about as protected as possible, and opponents are disincentivized from pointing spells at your spirits to remove them as blockers. You can, however, target your own creatures to get the tokens. I do wish the tokens entered untapped, though. That would easily put this card into the top ten.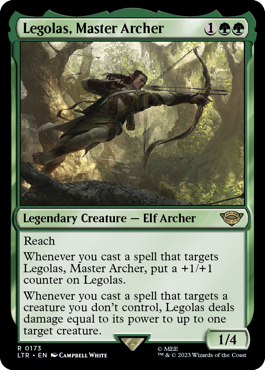 This is a potent card for so many reasons. It's got a good stat line for defense, and reach is always useful in an Elf deck. But obviously, this card really shines when it can reliably shoot other creatures. Even at two power, you can ruin someone's board. It also doesn't have to target the same creature as whatever spell you're casting—and isn't a fight, just damage—so you can spread around the arrows as you wish without worrying about Legolas. 
Another gotcha card. Imagine this scenario: Your opponent tries to pull off some revival/sacrifice trick, and you can instantly interrupt it and get a lot of mana. Even if you're not disrupting a combo, killing a big creature, wiping it from the graveyard, and getting tons of treasure (and maybe token ETB triggers) is strong enough to consider this card in most black decks.
Okay, this one's cheating. It's not a LOTR card; it's a reprint with new art. But we don't have OG Zendikar on Arena, so it's still new to Historic Brawl as a format. It's so rare to see someone run a Brawl deck with no nonbasic lands, so this essentially makes a creature unblockable. We just finished a set with poison as a mechanic, so some applications are obvious, but you can use this card in any deck that wants to reliably connect. It's also so little mana that it's hard to argue against using it in all kinds of Historic Brawl decks.
Not quite Bitterblossom; not quite Dreadhorde Invasion: still good. And it works with all Amass cards, even the ones that make Zombies. Play this on turn two and hit the opponent a few times before they can do anything, and if they kill your Army, make another some other way, and keep benefiting from the ability. It's a card full of upsides.
Does your opponent keep killing your commander, interrupting your combos and plans? This LOTR card stops that and is hard to get rid of. It's even got flash, so you can brick someone's removal spell. It easily goes on the top ten list.
Put this in every Goblin deck you make for Historic Brawl. Simple as that. The ability triggers for any Goblin or Orc, not just Moria Marauder. But if you connect with Moria Marauder, the double strike lets you use the ability twice in the same combat step.
You get to have multiple of these, even in singleton formats. And that makes them astonishingly good. They start as a 2/3 deathtouch Knight and give you a Ring trigger immediately. And from there, as you cast more copies, the snowballing is potent. Also, in case you didn't think about it: changelings are also Wraiths.
---
LOTR might be one of my favorite sets of all time. I've been thinking about all the additions I want to make to my existing decks. It's reinvigorating the part of me that likes putting together creative card engines.  
And I hope it's the same for you. We'll return on Monday with Part 4 and finish things on the 12th with Part 5. In the meantime, I hope you get a chance to brew with all these new LOTR cards and see just how powerful they can be.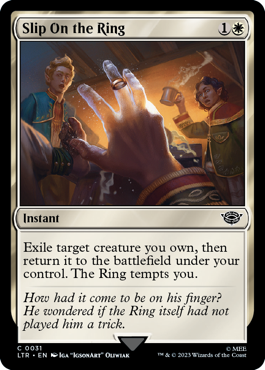 Possibly Related Posts: