LOTR Is One Of The Most Fun Sets In A Long Time
The LOTR set has been out for a while, and millions of Historic Brawl games have likely been played. Personally, I've easily played more than a hundred. And LOTR has been an utter joy the whole time, with most mechanics turning out to be a slam dunk. This might be the last part of the list, but it won't be the last we speak of this set.
Historic Brawl probably doesn't have the card volume to support Horse tribal yet, but we know the preferred Commander when it does. Meanwhile, that second ability lets you cheat out many powerful creatures. So, it's good in Isshin decks and can throw out things like Delina, Elesh Norn, and Krenko, Tin Street Kingpin.
An easy Ring trigger is good, but the use cases for that second ability are what I love about this card. Sure, flavor-wise, this is likely supposed to be used with food mechanics, but that's a narrow application. This can go in any deck that cares (or even just casually uses) sacrifice mechanics, treasure tokens, clue tokens, "egg" cards, flicker effects, or death triggers.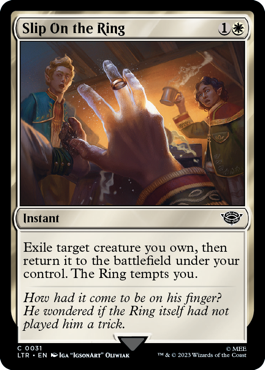 Every color seems to get some very cheap spell that gets a Ring trigger in LOTR, and this is another solid one. It's good for the reasons that flicker effects usually are: ETB reuse and a way to defend creatures.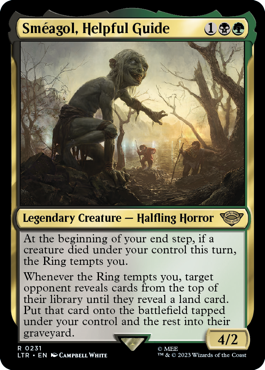 This LOTR card should've been mythic. It's so powerful and can get out of hand quickly if you put it in a deck with Nazgûls or any other card that cares about Ring triggers. And that second ability isn't just a solid way to ramp; it's also a brutal mill strategy in certain decks. I'm admittedly biased because I got destroyed by this card around the time I wrote this article, but I still stand by what I said. Try making a deck around it—there are so many options for approaching this strategy.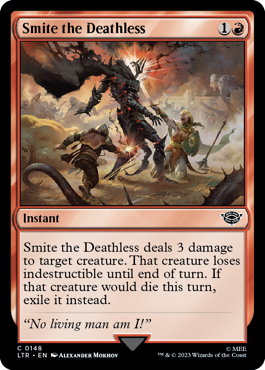 Sometimes, you really need to get rid of an indestructible card (I'm looking at you, Thassa, and you, Heliod). And with this at three damage and being an instant, you can fairly reliably do so.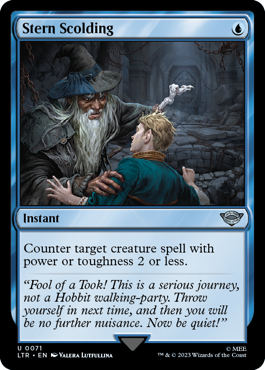 Many creatures fall under this card's limits, so it's not as inflexible as it might seem at first. Few players will plan for a one-mana counter spell on turn one. It's certainly one of the weaker cards on this list, but still worth considering in blue decks. 
I wish this card had "read ahead," but it's still good. You can ensure a creature is unlikely to die, then add another creature, and then both can presumably gain you some life. It's no Elspeth Conquers Death, but that's probably a good thing for everyone playing against white midrange decks.
A little harder to make powerful than I would like, but even if you can get two lands and a Ring trigger, it's worth the mana on rate. This could also be a big ramp spell if you have a clogged Brawl board and a Ring-bearer.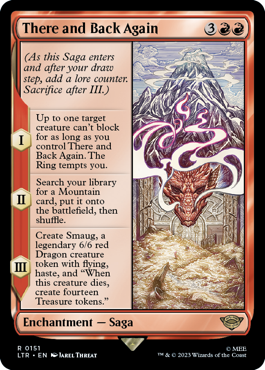 Fourteen Treasure tokens. Fourteen Treasure tokens. And a 6/6 flier with haste. The other parts of the Saga are also cool, but that payoff makes this card worth playing.
This card is getting a whole deck tech later, so I don't have much to say here. But if you play Historic Brawl on Arena, you'll run into someone playing this card. He's a lot of fun and makes for interesting deck-making decisions.
Whatever cool legendary creatures (LOTR or otherwise) you've got in your deck, this card finds them and lets you hit for a lot. Also, putting the Ring on a low-power creature with double strike is a good way to get in some easy damage, especially if you've gotten enough Ring triggers for that extra bolt damage.
---
And we did it! That's fifty-six of the best LOTR cards for Historic Brawl. No matter what singleton strategy you want to play, something in these lists could make your deck even more powerful. And, if you've not played much Historic Brawl yet, there are a few legendary options here begging for an inspired deck builder to take a crack at them.
But, despite how many articles we've already done, we've got more to talk about. This set is peak nerdiness, and I intend to treat it as such. As promised, I'll be releasing a brief article listing the top ten best cards from the whole list—with a lot of testing in the background to ensure my picks. But I've also got two upcoming deck techs that use the new cards in very different ways.
Those articles will be mixed in with the usual reviews and Friday Fictions, so check back often for all sorts of fun here at Sci-Fi Bloggers.
Possibly Related Posts: