Tom Bombadil Is Perfect For Historic Brawl Games
In the LOTR set, there's perhaps no commander more demanding of someone to build around than Tom Bombadil. His abilities outline what sort of deck he needs to go in, and his color identity gives you access to every saga in the game. And, if you're like me, you likely went to go see what sagas you had on Arena, put them all into a list with a few tutors and support cards, and rushed off to play.
And then you got slapped into the ground by more aggressive or streamlined decks.
Yep, the first lesson is that Tom Bombadil isn't the easiest commander to pilot. Building a deck for him took immense testing, and it's certainly not top-tier or always going to work. The deck is a series of interlocking cards that don't so much hum as an engine as are chemically unstable. Mess up your sequencing, overextend into a board wipe, under-extend into an aggro swarm, or even misunderstand some weird aspect of timing and trigger order, and you'll lose.
But, fortunately for you, I've done a lot of the legwork. I can't promise this is the most optimized version of the deck, but I can promise that it's a way more optimum formation than any of the "obvious" choices. I can promise you'll get lots of chances to do what a deck like this wants to do.
We'll be going into the core cards in a moment, but here's the secret of it all: Tom Bombadil is a sometimes card—only really useful in certain situations and often best left in the command zone—and this deck is an Enchantress/enchantments-matter deck. The best cards are enchantments, and the best creatures and spells care about enchantments. You don't even run that many sagas, only the ones that have a big impact on the board or set up later turns. Tom Bombadil is not an engine or a core piece—he's a combo enabler that will die a lot throughout a game.
There's obviously not enough time to break down the full reasons for all the cards, but we'll be looking at five categories intrinsic to the build.
The Sagas
Defensive Enchantments
Draw Engines
Reset Buttons
Wincons
You really want to pay attention to these five types of cards when looking over opening hands and in what you choose to protect. That, and make sure you have the right mana to cast the most important ones early on. This is a five-color deck, and though the mana base is quite robust and usually gives you every color by turn six, it's still worth paying attention to what you've got.
So, with all that out of the way—and the mindset established—it's time to look at some of the individual cards that make the deck what it is.
The Sagas
Like I said above, there isn't time to go over every card here, but there are a few Sagas you want to get off Tom Bombadil or access early in a game. These are the core sagas, the big important sagas that are the reason for playing a deck like this. But are not the wincons. These generate solid board advantage and are good at any point you can play them or get them randomly.
For most of these, the reason to include them is obvious. They kill/exile a creature or draw you into more options. But, of course, you've already spotted the outlier on this list.
"The Weatherseed Treaty? Really, Brandon?"
Yes, and for one reason: it's a low-cost card with Read Ahead. It's not unreasonable to play Tom Bombadil and this card on the same turn (or set things up for three turns later—it's a superb card) and to shuffle into something powerful. Also, this deck is almost incidentally great at getting Domain going, so you can pump a creature into a big damage dealer.
If you're going to mess with my list, don't remove The Weatherseed Treaty.
Defensive Enchantments
Aggro decks can just kind of run over you. I lost so many games during testing trying to find a way to not get beaten into the dirt before I could establish a board. The only solution I found was these cards and the Reset Buttons later. I needed chump blockers and passive life gain, and these four delivered.
Glorious Sunrise and Authority of the Consuls were the two most important. I don't think I've lost a single game that I got out Authority in the first few turns. The slowdown and lifegain are just too effective and buy you enough time to get down Tom Bombadil and build some snowballing.
Glorious Sunrise is arguably even better. The usual thing to do is just gain three life a turn, every turn, to buy you time. But, late game, it can draw you cards, pump out mana for a big saga, or simply win you the game by boosting the entire team after you fire off a wincon card.
These cards are so important that Mirrormade should almost always target one of them to double the advantage. Leyline and Hallowed could be swapped out if you don't like the slower strategies they focus on (though giving everything flying is shockingly good), but never take out Sunrise and Authority.  
Draw Engines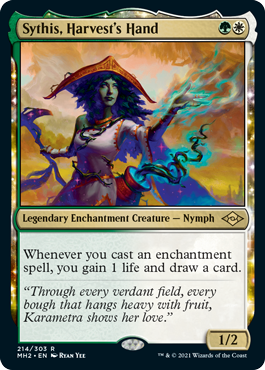 You may have noticed that many card choices focus on shoring up problems caused by playing a slow-engine deck. This is also the case with the draw engines. Because Tom Bombadil only triggers once a turn, you will slowly lose parity on Sagas and burn through your hand. Thus, we use a few high-end options to keep us from running out of cards.
Most of these are pretty self-explanatory, each one getting you more cards with each trigger. But I must point out that only Setessan Champion triggers on an enchantment entering play. You have to cast the spell for the others—and that comes up more often than you'd think. Also, Jin can flip for a disruptive board "wipe," but it won't happen that often. You're already winning by a lot if you have seven cards in hand and Jin on the board, and it's often still a bad idea to flip Jin. He does work as a decent blocker and hard-to-remove threat, though, so use him that way.
Reset Buttons
One of the more recent additions to the build was including a high density of board wipes, but you really need them. Tom Bombadil can be indestructible if you're very careful timing the sagas, but don't be afraid to kill him and everything else. Some decks will establish faster than you, and cleaning up the board is necessary. Especially because we often rely on our non-creature enchantment cards more than anything else. I've had people concede to a Farewell on the spot.
A special note needs to be said about Phyrexian Scriptures. Always be careful who you pick as the artifact and pay attention to what cards are already artifact creatures. I've lost some games to not noticing that my opponent could recover better than me. There's also the random chance that Tom Bombadil will pull the card out of your deck. Be ready for that to happen—you'll often have an easier time recovering than your opponent, especially with how many random revival spells you can access in this deck.
Oh, and as a final note, don't exile your graveyard if you have the choice. You will want access to used-up sagas for the wincon section.
Wincons
It's often a roundabout process, with a lot of prep work, but these cards are usually the winning move.
Eerie, Dance, and Sheoldred are very flashy. Many creatures in the deck are incidentally enchantments, and the core sagas all have brutal enters-play abilities that stack well. And it's just really hard to lose when you revive both graveyards in one glorious move. Just be sure not to mill yourself out if Setessan Champion returns in those card flurries.
Finally, Sigil and Sea God aren't complicated ways to win. They both produce big beaters, but more importantly, they make those beaters hard to block. Sigil is also a prime candidate to get Mirror-cloned for added destructive potential.
---
And that's the core of the deck. Early turns consist of getting enough mana and colors of mana to reliably cast all your spells and then hopefully drawing one of the stronger sagas. Mid-game, you'll either be playing a value strategy of chaining sagas and/or playing enchantments-matter cards and gaining board advantage. And, finally, assuming nothing goes wrong, you'll win by bringing back everything in one glorious burst or by having an overwhelming advantage off all the life gain and creature creation you've been doing.
Again, I can't promise that games with this deck will be easy—and they certainly don't tend to be fast—but it's a lot of fun. Because of all the random elements, you can't get into any rote habits, so games remain fresh for a lot longer than some Brawl decks. It also leads to fun brain teasers and high-level strategy practice, as creative or off-the-wall plays are often rewarded.
If you tried Tom Bombadil before and it didn't go well, give this configuration a chance. You'll certainly get a good story out of it.
---
Full Deck List
Commander
1 Tom Bombadil (LTR) 234
Deck
1 Shigeki, Jukai Visionary (NEO) 206
1 Elspeth Conquers Death (THB) 13
1 Breeding Pool (RNA) 246
1 Binding the Old Gods (KHM) 206
1 The Mending of Dominaria (DAR) 173
1 Azusa's Many Journeys (NEO) 172
1 Scroll of Isildur (LTR) 69
1 Setessan Champion (THB) 198
1 Savai Triome (IKO) 253
1 Unnatural Restoration (ONE) 191
1 Song of Freyalise (DAR) 179
1 Starfield Mystic (M20) 39
1 Mirrormade (ELD) 55
1 Into the North (CSP) 111
1 Leyline Binding (DMU) 24
1 Gilded Goose (ELD) 160
1 Jugan Defends the Temple (NEO) 194
1 The Birth of Meletis (THB) 5
1 Chromatic Lantern (GRN) 233
1 Battle for Bretagard (KHM) 203
1 Grateful Apparition (WAR) 17
1 Sythis, Harvest's Hand (MH2) 214
1 Isolated Chapel (DAR) 241
1 Indatha Triome (IKO) 248
1 Destiny Spinner (THB) 168
1 Drowned Catacomb (XLN) 253
1 Dance of the Manse (ELD) 186
1 Jukai Naturalist (NEO) 225
1 Jetmir's Garden (SNC) 250
1 Vraska, Betrayal's Sting (ONE) 115
1 Zagoth Triome (IKO) 259
1 Sigil of the Empty Throne (CONF) 18
1 Glacial Fortress (XLN) 255
1 Ziatora's Proving Ground (SNC) 261
1 Raugrin Triome (IKO) 251
1 Calix, Guided by Fate (MAT) 26
1 Raffine's Tower (SNC) 254
1 Archon of Sun's Grace (THB) 3
1 Bojuka Bog (WWK) 132
1 Shattered Sanctum (VOW) 264
1 Kami of Transience (NEO) 197
1 Shipwreck Marsh (MID) 267
1 Takenuma, Abandoned Mire (NEO) 278
1 Wrenn and Realmbreaker (MOM) 217
1 The Weatherseed Treaty (DMU) 188
1 Spara's Headquarters (SNC) 257
1 Enchantress's Presence (ONS) 261
1 Eerie Ultimatum (IKO) 184
1 Tatsunari, Toad Rider (NEO) 123
1 Kiora Bests the Sea God (THB) 52
1 Glorious Sunrise (VOW) 200
1 Phyrexian Scriptures (DAR) 100
1 Sheoldred (MOM) 125
1 The Cruelty of Gix (DMU) 87
1 The World Spell (DMU) 189
1 Jin-Gitaxias (MOM) 65
1 Authority of the Consuls (KLR) 9
1 The Eldest Reborn (DAR) 90
1 Fable of the Mirror-Breaker (NEO) 141
1 Vanquish the Horde (MID) 41
1 Ketria Triome (IKO) 250
1 The Elder Dragon War (DMU) 121
1 Kaya's Wrath (RNA) 187
1 Wrath of God (AKR) 46
1 Clifftop Retreat (DAR) 239
1 Day of Judgment (STA) 2
1 Call of the Ring (LTR) 79
1 The Kami War (NEO) 227
1 Xander's Lounge (SNC) 260
1 Boseiju, Who Endures (NEO) 266
1 Sunpetal Grove (XLN) 257
1 Farewell (NEO) 13
1 The Bears of Littjara (KHM) 205
1 Weaver of Harmony (NEO) 213
1 Cultivate (STA) 51
1 Arcane Signet (ELD) 331
1 Hallowed Haunting (VOW) 17
1 Castle Locthwain (ELD) 241
1 Otawara, Soaring City (NEO) 271
1 Hall of Storm Giants (AFR) 257
2 Snow-Covered Forest (KHM) 285
2 Snow-Covered Mountain (KHM) 283
2 Snow-Covered Swamp (KHM) 281
2 Snow-Covered Island (KHM) 279
2 Snow-Covered Plains (KHM) 277
1 Stomping Ground (RNA) 259
1 Deserted Beach (MID) 260
1 The World Tree (KHM) 275
1 Command Tower (ELD) 333
1 Hinterland Harbor (DAR) 240
1 Nykthos, Shrine to Nyx (THS) 223
1 Temple Garden (GRN) 258
1 Temple of Plenty (THB) 248
1 Temple of Enlightenment (THB) 246
---
Possibly Related Posts: