We support the WGA and SAG-AFTRA strike and the hard work of writers, actors, and other creatives and crew that make the media we love possible. At the time of writing, critics are not on strike, and there is no call for any boycotts, but Sci-Fi Bloggers will be shifting focus to cover more indie projects and non-film/television media during the duration of the strike.
For more information about the strike and why it's important, go to: https://www.sagaftrastrike.org/
---
The Circle of Ter-ROAR Is A Fitting Finale To The Books
Let's get this out of the way because I'm going to be typing it a lot: The Circle of Ter-ROAR is a silly name for a book. Be Careful What You Wish Fur is at least a clean word change—"The Circle of Terror" would've been fine. But, oh well. This is, as far as I can tell, the last in the Disney Chills series, and it may as well end on the worst of the puns.
It's not, however, the worst of the books. In the general trend of these reviews, it's one of the best. A lot of the technical writing issues I complained about before are mostly gone from The Circle of Ter-ROAR. The main character has a core character flaw that they agonize over, but the reader isn't subjected to a constant reiteration of it like in Liar, Liar, Head on Fire. There's some level of a twist, but it doesn't come out of nowhere and is actually foreshadowed in a fun and interesting way. And the ending doesn't feel rushed.
This might be because The Circle of Ter-ROAR is by far the longest of the books. Though the font is big and the pages small, the three-hundred-plus count is noticeable, and the story is allowed to breathe, explore its setting, and build to horror before it happens. It's paced like a horror book for older audiences, and I didn't realize how much I appreciated that until I was in the middle of reading.
And with this extended page count, we get some of the more inventive usages of the core material. The Lion King is one of the more brutal Disney movies in the canon, and that carries over to The Circle of Ter-ROAR. To clarify what I mean with an example: this book pulls a lot of the trappings from the "long live the king" scene, and very nearly tricked me into thinking it was going to go way, way more intense than it actually intended.
This Book Often Seemed Willing To Kill Characters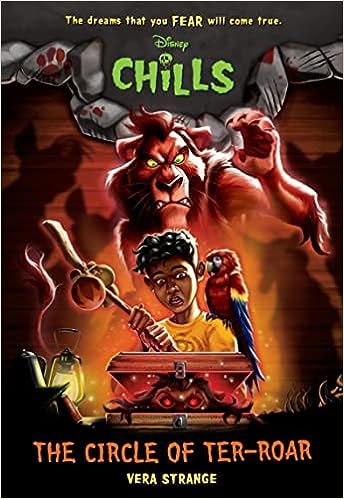 This is also true of the overall horror. A baby, like not even really able to talk yet baby, almost dies of dehydration. Adults are not only included in the horror but they can get hurt and directly negatively affected by the story. There are mentions of poverty, marital strife, self-hatred, and maybe even a depiction of depression. The threats are also often more realistic—and this is because of a change that hadn't occurred to me for this series, but I wish had been done sooner. Though a lot of Disney villains are human, we already know who they are—and it's not a surprise when they're threatening. But The Circle of Ter-ROAR has a straight-up murder mystery with a hidden killer, who at one point tries to kill a kid character with a hammer.
And when it does use the in-canon villain, it does it so well. Scar is not inexplicably still "alive" like Cruella, nor pulling off weird magic logic like Captain Hook—Scar is straight-up a ghost, acts like one, and has better-defined ghost rules than expected, even having a new set of lore to go with him. He wasn't just locked away until now—he's been directly affecting the backstory. He's also not a random threat pulling off jump scares all the time with seemingly little reason to do so. Like in Fiends on The Other Side, Scar's general plan and mindset remain understandable, and he resorts to direct attacks like you would expect from a villain. I don't know if this book is the most appealing for a Disney fan, but it's certainly the most engaging for a horror fan.
But these books usually have a few things to complain about, and The Circle of Ter-ROAR is no different. For one, Rafiki's staff—the magical item in this story—is not well defined in how it works at all. It glows, it can attack, it can sometimes warn of danger and sometimes tell the main character where something is, and sometimes it does nothing at all. The same general weirdness applies to other ghosts. The screaming corpse and ghost stampede are both great scenes but raise lots of questions. Horror often keeps stuff like this vague, and that's fine—I like it that way—but there were too many established rules throughout The Circle of Ter-ROAR to not notice when something doesn't get the same treatment.
The Circle of Ter-ROAR Does Not Stay Consistent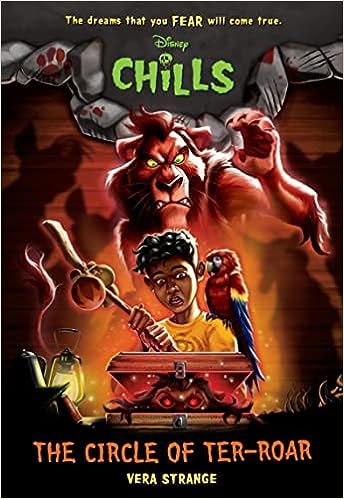 There are also the problems you would expect in a kid's book like this and have been present in other Disney Chills books. Some of the characters are rather flat, and their motivations are not as well-established as I would've expected from the page count. There are also a few problematic moments that I'm sure weren't intentional but are still there. And, finally, for a book that really leverages a lot of its plot on the main character's guilt over a bad decision that was allowed to logically play out, it sure does save him a lot with plot conveniences. A parrot introduced early on essentially functions as a hand of God: helping solve problems, mysteries, and save people. The main character is established as knowing a lot about animals, and I wish that could've influenced the plot a little more instead of the parrot (or the staff) handling things. Ironically, even with this much of a longer page count, I still wanted a little more to fully explore the premise and the book's ideas.
And, really, that wraps up my review of The Circle of Ter-ROAR as itself. It's a fitting end to this long review series. A fun horror adventure with an interesting setting and some of the best character work so far. If you've been considering reading Disney Chills, this is a solid one to start with. It's got its issues, but I don't regret reading it. And I'm glad Disney Chill exists for the next generation of horror fans.  
Possibly Related Posts: