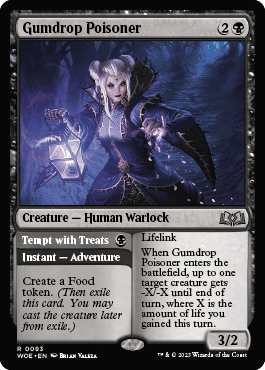 Wilds of Eldraine Unleashes Many New Adventures
The Wilds of Eldraine arrives very soon. It will go live on Arena less than a day after this post goes up. And I've looked over every single card, made a list of the best thirty or so, and then narrowed it down to only ten. It was a harsh process, and a lot of potent options went by the wayside. Putting the final ten in order was a whole other challenge. Some of these cards are just flat-out good, and others depend a lot on what kind of decks are seeing play. The cards that went in the topmost slots are there because they have the most synergy with other cards, the most chance to be a staple of a high-performing deck, or are simply so strong they change the course of a game if they resolve. But that's enough explanation. You know how top ten lists work. Let's go forth into the Wilds of Eldraine.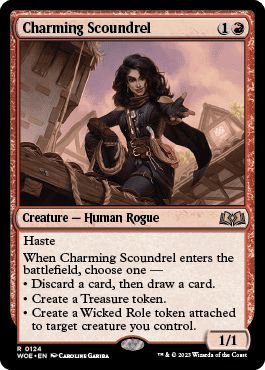 I predict most players won't care about any of the options except the final one—and that's me included. This card is on the list because, most of the time, you're getting a 2/2 haste creature that, if it dies, deals damage to your opponent. That's a solid aggro option. And, if played late game, it can give that Wicked Role to a bigger creature.
This is mostly another Memory Deluge and will see play for all the same reasons. But I'm much more interested in how good this is if you have a reliable way to set up the Bargain cost. Digging eight deep puts me in mind of Dig Through Time, and sacrificing a Food or Role for an effect like that is certainly worth it.
I kept wanting to take this off the list, but Beluna has a lot of useful abilities. This is a 4/4, with trample, with a reduction ability that will matter a lot with all the new (and old) Adventure cards. "Seek Thrills" is probably the worst part, but I've played Temur Adventures before, and an ability like that could draw a lot of Brazen Borrowers and Bonecrusher Giants. A three-color mana restriction isn't really that big a deal in most formats, and I could see this card being an auto-include in certain niche shells.
This is such a silly idea for a card, but I can't argue with how close it is to Hydroid Krasis. It flies, it draws cards, it gains you life in a roundabout way, and scales with however much mana you happen to have available. I'm so glad a card like this didn't exist back during the times of Uro or any of the Simic Food decks because it would've been way, way too powerful alongside Wicked Wolf. Even now, it could see a lot of play in ramp decks that want some top-end finishers.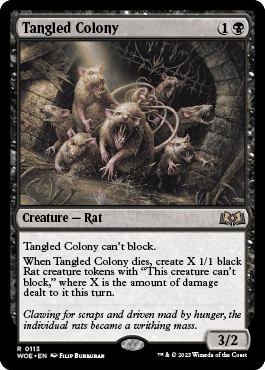 Pure aggro fun. The rat ability is based on how much damage it takes. Late game, you can keep attacking with Tangled Colony into clogged board states. Opponents only playing big creatures might not even block it because the swarm will be even harder to deal with. There's some kind of Black aggro deck just simmering in Wilds of Eldraine, and I think this is a core piece of it.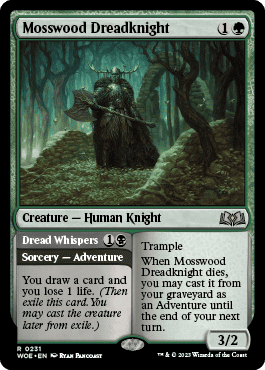 Turn two, play a pretty good two-drop. Then, when it dies, play the "Dread Whispers" Adventure for card draw, and replay the knight again. Yeah, it's a little mana-intensive, but if Tenacious Underdog can see a lot of play, then so can this arguably even more flexible creature.
Do I need to explain this one? It's got Flash, and it exiles something on the spot. The rest of its stats barely matter. Its sacrifice ability seemed a weird addition, but having a way to get some value out of it when it inevitably gets targeted is useful.
This card has such a high skill ceiling on it. Knowing what number to name is something that will require knowledge of the meta or a good memory in game two. But the ability to draw cards and do damage at the rate this card can attain is too good to not put on the list.
Every time I read that name, it makes me remember how strong Questing Beast is—and to be clear, this card is no Questing Beast. But what it is, is a good aggro card with a solid Adventure that easily gets out of hand and can go in most decks. You could play it in Jund or Gruul with little hesitation and might even see it played outside those confines. Do not underestimate how quickly this card can grow.
This a tutor that, for not a lot of cost, lets you put the thing you tutored for into play for free. That's all. There's not much else to say. It's really good, and will see play in any deck that can withstand the mana requirements.
---
And those are the top ten cards from Wilds of Eldraine! Like I said at the top, I had to cut from a pool of around thirty cards. And if that doesn't tell you how good this set is, I don't know what will.
Possibly Related Posts: