Eriette Has Multiple Apples To Offer Your Opponent
Much like last set's Tom Bombadil, Eriette of the Charmed Apple begs for someone to build around her. But there was a problem right out the gate: Auras are almost universally known as the worst card type in Magic. They have a long history of not being played. For those unaware, Auras are inherently down a card. If the creature you attach it to dies to one removal spell, then your opponent used one card to make you lose two. It's also an issue of resources in general. You have to have a creature to enchant, and if you don't, Auras clutter up your hand.
But I like a challenge, so I started brewing a Historic Brawl deck for Eriette, focusing on problem-solving cards to shore up the inherent problems. As such, there was very little room for off-theme staples or classically useful cards like board wipes and spot removal. You'll notice there's not even a Smothering Tithe or any version of Elesh Norn in here. And when it was all said and done, the result was a strange combination of Aggro, Combo, and Control that uses cards often only played in Draft paired with some of the most powerful enchantments on Arena.
It's not a weak deck, though. I need to clarify that. I wouldn't call it top tier, but it can win a lot of games quickly or turn the ones that it doesn't into an extremely grindy battle of attrition. It attacks on a wholly different axis than most Historic Brawl decks do, and that alone makes it a fun option.
To get a feel for Eriette's Charming Deck, we'll be going through each card theme, though not every card present in that theme, in the general order of importance to making this all function.
Draw Engines:
Every good Historic Brawl deck needs draw engines, but this one especially needs one for all the above reasons. You'll empty your hand a lot. The problem is that we don't have a ton of good options in these colors—so I grabbed every single one I could find.
Most of them have a steep life cost, but unlike a lot of other decks, our Commander can easily replenish that. You just have to keep Eriette alive…
Protection:
Unlike some Historic Brawl (or other singleton formats) decks, your Commander isn't just a strong card that works with the theme. Eriette is the whole strategy. So, the deck is full of cards that make it hard to kill Eriette.
Selfless Savior and Boromir are single-use options, while Greater Auramancy can help protect any and all of your creatures. General Enforcer was a late-game discovery in building this deck. There ending up being a few legendary humans that he can protect, and if you enchant General Enforcer with On Serra's Wings, he also gets indestructible. But the best option is to get a Mithril Coat (or the token from Tyrite Sanctum) on Eriette as soon as possible. A lot of games are won off just having her in play and a lot of Auras. Those Auras don't always need to be on your creatures, though…
Lock-Pieces:
Eriette's first ability is an interesting one with a few quirks to remember. For one, if your opponent takes control of your creature—and it happens to be enchanted by an Aura you control—then they still can't attack you (but they can attack Battles). Another is that her ability doesn't stop blocking, and opponents will often let things you enchanted die. It's actually (usually) better not to attack, even if you could do some damage, and destroy your opponent purely with drain effects.
The best card in this smaller category is fairly obvious: Stab Wound. Not only does it have all the benefits of stopping attacks, but it's additional damage every turn. It's not unreasonable to hit opponents for basically a Lightning Helix every one of your turns and then basically a Shock on theirs. Most opponents don't last long in that scenario.  
If you do need to go more aggressive, though, there are a few strong options. We'll go into the best creatures to wear these Auras toward the end. But, for now…
Utility Auras:
It was a little shocking how weak most Auras were. Except a few.
Ethereal Armor and All That Glitters are almost the same in this deck, scaling into easily ten damage a turn, while On Serra's Wings gives the all-important evasion and lifelink. Even with Eriette draining opponents, sometimes you still need way more life for cards like Necropotence or Phyrexian Arena. It's not uncommon to put more than one of these Auras on the same creature, especially if you're going for the kill. But what if any of your fun Auras fall off during the course of a game…?
Recursion:
There are not a ton of good cards to get back Auras, but we do have a few.
Lurrus and Serra Paragon are the most interesting of these, allowing a flexible approach to recovering spells. Serra does make things exile, but she also gains you life—so it's a tossup which is better. The best targets for any of these cards are Ethereal Armor or Stab Wound.
But, after all of these shenanigans, after we've recurred and protected and generally caused our opponent a headache, how do we close out a game…?
Win-Cons:
Obviously, Eriette is the win-con most of the time. But when she's not, it's usually one or more of these other cards.
Vito combines with all the life-gain in the deck for massive hits. Light-Paw is by far the most traditionally aggressive, especially if you can find a flying Aura. If you don't have such a blistering opening, Danitha is one of the best creatures to enchant. She already has so many abilities that adding more doesn't seem fair. And, finally, Halvar.
Halvar is the most complicated. I don't think I need to explain how good giving double strike is, but there are niche interactions to consider. Lifelink only works when damage happens, so you don't get "double lifelink" if the opposing creature dies on first-strike damage. Halvar also swaps around Auras (including someone else's lock pieces if they try to return the favor), meaning you can pivot points of attack, giving creatures with strong abilities more chances to deal damage. As a warning, you have to resolve his ability each turn, even if you don't end up moving anything—so don't accidentally click on something when it happens at the start of combat.  
Tips and Tricks:
Full disclosure: sometimes this deck just dies to really overwhelming opening aggression—but that's true of most combo Historic Brawl decks. You could put in a Settle the Wreckage or Archon of Absolution/Baird, Steward of Argive for protection, but it honestly didn't work well during testing. It's better to go all in and accept that you might lose a game occasionally to variance.
Your ideal opening hands are always the same vibe, no matter the opponent. You want at least one Aura, one strong creature, and a draw engine—or a way to get one easily.
That said, this deck runs two broad tutors (and one more specialized, but it's irrelevant to this point), and in almost all cases, you want to be tutoring for Greater Auramancy first to protect all of your creatures, then go for a draw engine if you don't have one yet. A lot of decks run one or two enchantment removal tricks, but most aren't prepared to fight through shroud. Kogla, the Titan Ape is one of the few cards you'll regularly face that could give you trouble—and that's only likely to be in Mono-Green lists. In all other cases, make sure you get Eriette underneath that protection, ideally the same turn you play her, and that you don't play Auramancy into a counterspell.
Depending on the exact configuration of your opening hand, you're either the control or aggro deck. Some hands want you to put all your Auras on a creature and swing for increasing damage every turn. Other hands demand you slowly lock things down, get hit a few times, and then regain all the life lost with Eriette. Between shroud, lifelink, double/first strike, and more, your creatures are often excellent walls that opponents can't afford to attack into with anything you don't automatically put a Stab Wound or Dead Weight on.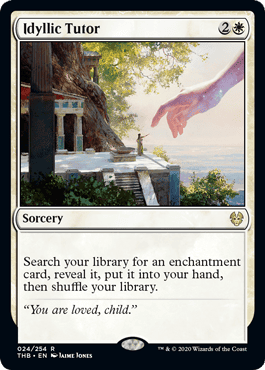 And that's Eritte's Charming Deck! It's a deck that takes some practice to get a handle on, and it's got a lot of interesting corner-case strategic options. Between Necropotence, Tempted by the Ring, and multiple ways to recur different cards in your deck, you'll often be making a ton of game actions your opponent can't easily interact with, then increasingly draining them each turn. From a flavor perspective, it really does feel like you're an evil monarch, watching as your opponent struggles underneath your tyrannical reign, eventually losing to your overwhelming magic.
Full Deck List
Note: some of these cards have multiple versions, so don't craft automatically if it says you don't have these specific options.
Commander
1 Eriette of the Charmed Apple (WOE) 202
Deck
1 Godless Shrine (RNA) 248
1 Snowfield Sinkhole (KHM) 269
1 Rise to Glory (THB) 225
1 Trespasser's Curse (AKR) 129
1 Arcane Signet (ELD) 331
1 Danitha, Benalia's Hope (DMU) 15
1 Dead Weight (IKO) 83
1 Necropotence (WOT) 31
1 Heliod, Sun-Crowned (THB) 18
1 Katilda, Dawnhart Martyr (VOW) 21
1 Ossification (ONE) 26
1 Isolated Chapel (DAR) 241
1 Lord Skitter's Blessing (WOE) 98
1 Archon of the Wild Rose (WOE) 1
1 Danitha Capashen, Paragon (DAR) 12
1 Lurrus of the Dream-Den (IKO) 226
1 Archon of Sun's Grace (THB) 3
1 Aphemia, the Cacophony (THB) 84
1 Spellbook Vendor (WOE) 31
1 Hateful Eidolon (THB) 101
1 Transcendent Envoy (THB) 40
1 Moon-Blessed Cleric (AFR) 26
1 Idyllic Tutor (THB) 24
1 Starfield Mystic (M20) 39
1 Phyrexian Arena (ONE) 104
1 Pacifism (IKO) 25
1 Cooped Up (WOE) 8
1 Shambling Suit (ELD) 230
1 On Serra's Wings (DAR) 28
1 Caves of Koilos (DMU) 244
1 Hallowed Haunting (VOW) 17
1 Virtue of Persistence (WOE) 115
1 Michiko's Reign of Truth (NEO) 29
1 Light-Paws, Emperor's Voice (NEO) 25
1 Call of the Ring (LTR) 79
1 Halvar, God of Battle (KHM) 15
1 Temple of Silence (M21) 255
1 Voice of the Blessed (VOW) 44
1 Realmbreaker's Grasp (MOM) 33
1 Kor Spiritdancer (JMP) 116
1 Shattered Sanctum (VOW) 264
1 Demonic Embrace (M21) 95
1 General's Enforcer (IKO) 188
1 Rune of Sustenance (KHM) 25
1 Spectral Steel (KHM) 30
1 All That Glitters (ELD) 2
1 Angelic Gift (M20) 5
1 Sentinel's Eyes (THB) 36
1 Bound by Moonsilver (SIR) 16
1 Sram, Senior Edificer (MUL) 71
1 Stab Wound (WOT) 36
1 Shrine Steward (NEO) 259
1 Greater Auramancy (WOT) 4
1 Brightclimb Pathway (ZNR) 259
1 Ethereal Armor (RTR) 9
1 Rune of Mortality (KHM) 108
1 Serra Paragon (DMU) 32
1 Sunlit Marsh (DMU) 257
1 Castle Ardenvale (ELD) 238
1 Cave of the Frost Dragon (AFR) 253
1 Castle Locthwain (ELD) 241
1 Bojuka Bog (WWK) 132
1 Hive of the Eye Tyrant (AFR) 258
1 Takenuma, Abandoned Mire (NEO) 278
1 Command Tower (ELD) 333
1 Fabled Passage (ELD) 244
14 Plains (LTR) 263
11 Swamp (ANA) 5
1 Skyblade's Boon (MH2) 31
1 Ironclad Slayer (SIR) 35
1 Boromir, Warden of the Tower (LTR) 4
1 Selfless Savior (M21) 36
1 Vito, Thorn of the Dusk Rose (M21) 127
1 Mithril Coat (LTR) 245
1 Tyrite Sanctum (KHM) 272
1 Plaza of Heroes (DMU) 252
Possibly Related Posts: